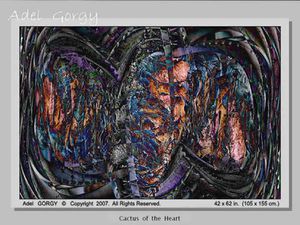 "God, humans are creatures of habit,"
I say to no one particular,
myself, the man who calls himself my
lover, behind me in the next room.
The way we laugh when we hit the switch
knowing there's no electricity,
or turn the faucet to wash our hands
anyway, plumber downstairs, no flow.
Do what you've always done, and you'll get
what you've always gotten. This is our
homily these days, and I believe
it. God, humans, creatures, here we
sit in the cosmic chain of being,
him in the next room, me at my work.
He is reading, quietly, poems
that make him moan. This is sweet because
they are my own. He, of course, is not.
There is a woman some miles away
who yet is here with us, a corner
of the room and our consciences just
for her. Seems I've always been the third
angle of the triangle, the heart-
shaped chaos created by a yes
born of a no. And what I now know
is I want him alone, the slow moan
mine, no more shadowed eyes peering
from corners, through blinds. Do what I've done
always? always, I'll trace clandestine skin.
—Moira Egan