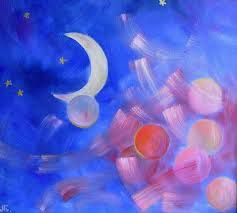 THE MOON
The moon,  crescent shaped,
scythes the sky,
silver and resplendent.
Never was such a vision seen,
gasps the world.
What beauty, what magnificence!
But it was like that yesterday,
say the wise men,
forever declaiming the truth
from remote mountains,
derided by all until today.
They smile:
We're all meditators now.
AERONWY THOMAS