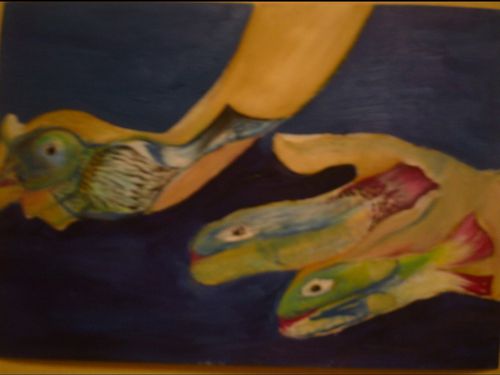 Image by: Cecilia du Toit  
http://www.paintingsilove.com/artist/cecilia8
SONG: One bird flying high two fish swimming by here we sit and watch the river and the summer sky
by  Bela Bartok, Hungarian composer.
Violinist Heinz Czech has composed a  kind of a duet on the piano  for the song.
Image and Music are proposed by Cecilia du Toit and Heinz Czech.
The Kodály Method, also referred to as the Kodály Concept, is an approach to music education developed in Hungary during the mid-twentieth century by Zoltán Kodály.
It is a method used in Kodaly Academy (GB) and is meant for Nursery Schools children in order to develop their rhythm for music and singing ability.
http://en.wikipedia.org/wiki/Kod%C3%A1ly_Method